Peace and Security in Northeast Asia By Hugh Miall | 03 May, 2023
Northeast Asian Rivalries Intensify Before G7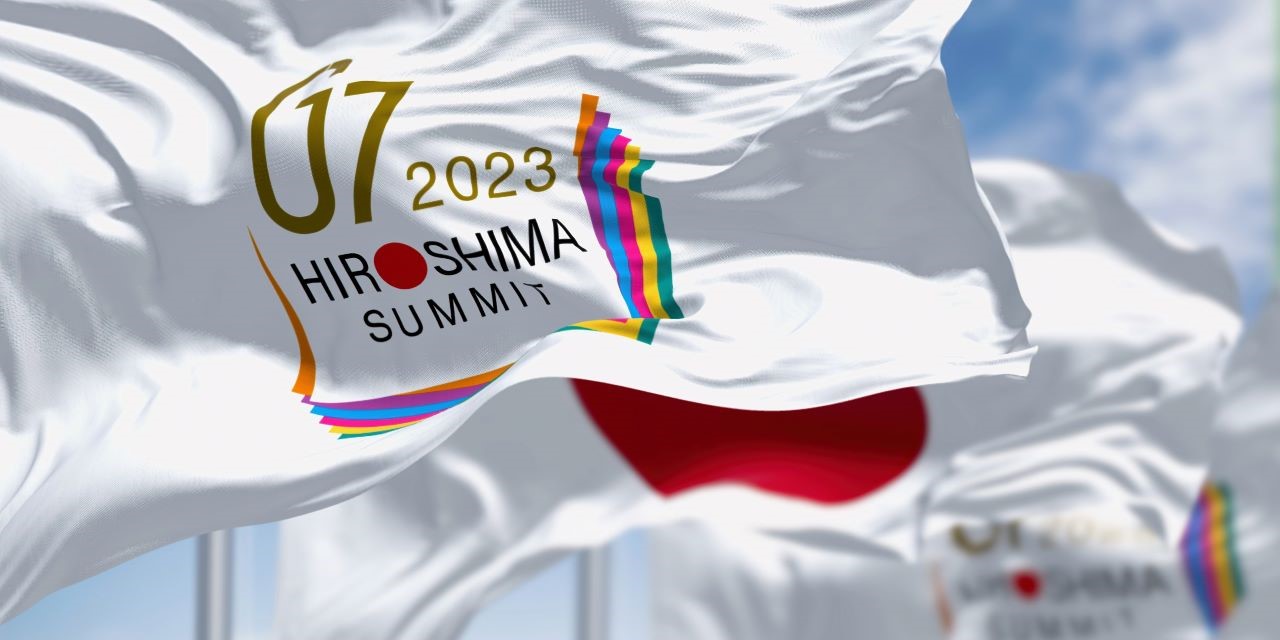 Image: rarrarorro/Shutterstock
As the G7 prepares to meet in Hiroshima in May 2023, prospects for world order look bleaker than they have been for some time. Northeast Asia is a particular site of tensions. China, Japan, South Korea, and North Korea disagree over regional order, world order, and territorial issues. Military expenditure is rising rapidly and North Korea is consolidating its status as a nuclear power. The growing US-China rivalry dominates the region.
The forthcoming meeting of the G7, together with the G20 meeting in New Delhi in September, should be an opportunity to change direction. The major powers need to turn away from fragmentation towards cooperation, agree on new frameworks for global governance, and work together on disarmament, conflict prevention, climate change mitigation and sustainable development.
In their statement of 18 April in Japan, the G7 foreign ministers supported engagement with China to deal with global challenges. They backed Prime Minister Kishida's Hiroshima Action Plan, which aims to put the world on a path to a world without nuclear weapons. They called for net zero greenhouse gases by 2050 and reversal of biodiversity loss by 2030.
In practice, however, the world in general and Northeast Asia in particular are going in the opposite direction.
The territorial issues in east Asia continue to generate serious political tensions and risk military clashes. Following a near-collision between Chinese and Philippines coastguard vessels off the Spratly Islands on 28 April, a US State Department spokesman, Matthew Miller, called upon China to 'desist from its provocative and unsafe conduct', and added that any Chinese attack on Philippines armed forces would trigger a US response.
Off Taiwan, China sent fighter jets to simulate precision strikes and practise blockading the island in three days of military drills that ended on 10 April.
President Xi Jinping and President Biden had agreed at their meeting at the G20 summit in November 2022 to keep lines of communication open, strengthen cooperation on global challenges, and increase people-to-people exchanges. Anthony Blinken, the Secretary of State, had been due to follow up with a visit to Beijing, but this was cancelled after the US shot down a Chinese balloon overflying US air space.
It is astonishing how quickly the US-China relationship has turned into a rivalry. Before President Trump, US presidents welcomed the rise of China and hoped that a 'peaceful, prosperous China that would support international institutions', in George W Bush's words. President Obama said, 'I absolutely believe that China's peaceful rise is good for the world and it's good for America.' Since then, President Xi Jinping has come to power with a more nationalist agenda, and President Trump declared China a 'strategic competitor, introducing sanctions which President Biden has not lifted.
China is now the world's second largest military power, spending $292 billion in 2022, a 4.2% rise on the previous year. Japan has also sharply increased its spending on the Self Defence Forces, up by 5.9% in the last year, to $46 billion, though this remains only 1.1% of GDP. South Korea's military spending rose to $48.3 billion in 2022, a 4.6% increase on the previous year. North Korea spends around 16% of state expenditure on the military and has been able to sustain a vigorous programme of nuclear developments and missile launches, which has alarmed its neighbours.
Overall global military spending in the world rose by 3.7% in real terms in 2022, reaching an all-time high of $2.24 trillion. The largest rises in military expenditure have been driven by the Ukraine conflict, with the US increasing its spending by 0.7 per cent in real terms, largely due to aid to Ukraine. Russia increased its own military spending by an estimated 9.2 percent, to $86.4 billion. US military spending is by far the largest in the world at $877 billion, accounting for 39% of the world total, three times more than China.
Increasing competition in space also contributes to geopolitical conflicts on Earth.
In its contest for relative power advantage with the United States, China has identified three technologies as crucial infrastructure, in which it plans rapid progress: space, AI and quantum computing. Following the two sessions of the National People's Congress (NPC) and the Chinese Peoples' Political Consultative Conference (CPPCC) in March this year, China prioritised these technologies in its bid to become a leading global power.
President Biden's effort to create an alliance of democracies received a boost when President Yoon of South Korea met Prime Minister Kishida of Japan on 16 April and agreed to patch up South Korea-Japanese relations. Meanwhile President Yoon's visit to the White House, was accompanied by a declaration that South Korea would not seek nuclear weapons, even though 75 per cent of the South Korean population were reported to favour this. As a quid pro quo, the US promised to bolster its extended deterrence to South Korea, stepping up joint military exercises.
At the same time, Prime Minister Kishida has been pursuing his predecessor Shinzo Abe's dream of a 'confluence of the two seas', building on Japan and India's strategic cooperation on the Indo-Pacific at his visit to Delhi on March 20th. Since India chairs the G20 and Japan chairs the G7, he also saw this as an opportunity for the two to work together to shape the world order. India, has a key role in the emerging contestation over the shape of the world order, and in the competition between China, Russia, and the US for influence in the global South.
From China's point of view, these efforts at containment 'will only strengthen the will' of the Chinese people. China seeks to continue its peaceful rise, recover what it regards as its historic territories, lost in the century of humiliation, and avoid trade wars, technology wars and decoupling.
Decoupling is taking place, however, as the major powers seek to protect their domestic economies from the pandemic and geopolitical supply shocks. China is pursuing its 'dual circulation' model. India has its 'Make in India' programme. The US is protecting its domestic industries and banning outsourcing to China. It is uncertain how this will affect trading patterns in East Asia – the main driver, hitherto, of the east Asian peace.
In a sign that China has recognised the importance of soft power, President Xi Jinping has built on his Belt and Road diplomacy by entering the field of peace mediation, offering a twelve-point peace plan to Ukraine, and a ceasefire proposal in Yemen.
This could be a prelude to more extensive cooperation if the US and its allies were to agree to work together with China to seek a peaceful settlement in Ukraine and move towards an accommodation on Taiwan (See Toda's Policy Briefs No. 153 and No. 126.) The G7 and G20 need to work together on agreeing new rules for the global order and a new architecture of global governance, that can peacefully accommodate China while also improving global equity, accelerating efforts to mitigate climate change and biodiversity loss, and upholding the principles of the UN Charter and international law.
It remains to be seen whether the meetings live up to these expectations.
Related articles:
What if we could build trust in Northeast Asia? (3-minute read)
China is reinventing itself as a peace broker - how will America respond? (3-minute read)
Hugh Miall is Emeritus Professor of International Relations at the University of Kent, and Chair of the Conflict Research Society, the main professional association for peace and conflict researchers in the UK. He has been Director of the Conflict Analysis Research Centre and Head of the School of Politics and International Relations at the University of Kent and a Research Fellow in the European Programme at Chatham House. He is a Senior Research Fellow at the Toda Peace Institute.