Climate Change and Conflict By Taukiei Kitara and Carol Farbotko | 13 November, 2023
This is not Climate Justice: The Australia-Tuvalu Falepili Union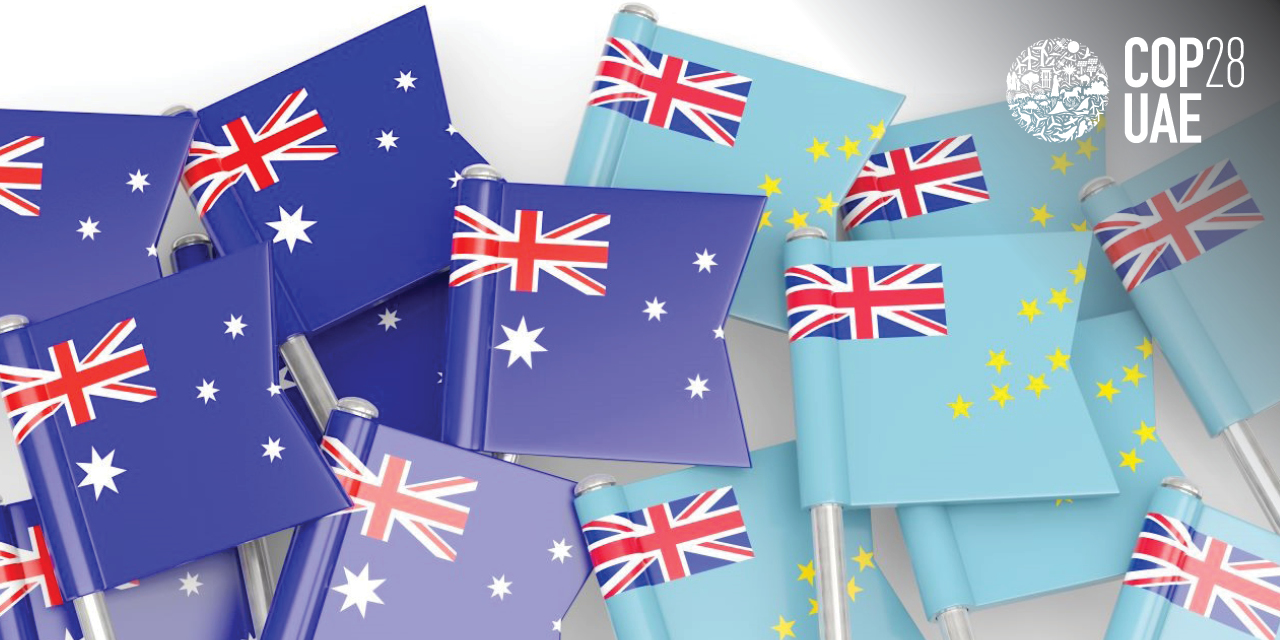 Image: istock
Australia is making headlines around the world for offering the people of Tuvalu a new 'human mobility pathway to Australia' that promises 'human mobility with dignity' of up to 280 Tuvaluan citizens per year, through a new treaty named the Australia-Tuvalu Falepili Union.
This voluntary migration pathway for Tuvaluans to work or live permanently in Australia is being cautiously welcomed by some Tuvaluan citizens and Tuvaluans living abroad, including those already in Australia. However, the Falepili Union does not deliver climate justice for Tuvaluan people.
Tuvaluans have not been consulted on this plan. We write this from one of Tuvalu's outer islands, Vaitupu, where little is being discussed about the treaty the day after its release. The Tumaseu community on Vaitupu is busy celebrating the fiftieth anniversary of its efforts to build its maneapa (community hall), not paying much attention to the news. Few people here desire to migrate internationally for climate change reasons. We have been here for nearly four weeks participating in community events, undertaking surveys and engaging people in Sautulaga (storytelling) on the broad themes of culture, development, identity, mobility and environment. All of the people we have listened to are highly aware of climate change risks, and the vast majority have thought very carefully about the potential need to move away. Most are supportive of the idea that fellow citizens might decide to move abroad, and indicate the importance of having the choice to move or stay. But hardly anyone indicates a desire to leave Vaitupu because of concerns about climate change. Young people are more likely to think about moving elsewhere for work or education opportunities. Some wish to learn the skills to protect their country from climate change. The desire to stay in Tuvalu and adapt to climate change among the Tuvaluan population generally has been a phenomenon we have observed over many years, one as an Indigenous Tuvaluan who lived here until the age of 35, and the other who has been conducting research in Tuvalu on these issues since 2005.
The desire by many Tuvaluans to stay and adapt in Tuvalu is not a futile one. Research indicates that, with adaptation measures, the habitability of atolls can continue into the 21st century, despite rising sea levels. Indeed, the Tuvaluan government has recently completed a land reclamation project on the capital, Funafuti, designed to withstand the worst-case sea-level rise scenarios. The Tuvalu Government remains committed to its policy of no resettlement of the population unless absolutely necessary, and is continuing to invest in land reclamation, which is also mentioned in the treaty. The treaty should not be interpreted as an indication that the worst-case scenario has arrived or is imminent. An additional migration pathway is simply another way in which Tuvaluan people can diversify their livelihood options and access more resources for tackling climate change, such as by increased remittances and the gaining of skills through increased education and training opportunities. We expect the new migration pathway to Australia to operate circularly for many of those who do take it up, a continuation of participation by Tuvaluan workers in offshore employment over many decades: in the mines of Nauru and Banaba, in commercial seafaring, and in the labour mobility schemes of Australia and New Zealand.
Despite these benefits for Tuvaluan people, the treaty does not deliver climate justice. We believe that the way the migration pathway is being constructed primarily as a climate solution is injurious to the Tuvaluan people who have long rejected labels such as 'climate migrant' or 'climate refugee', worrying that this will attract discrimination if they choose to move to Australia for work or study. Despite the best efforts of themselves and their government to reduce the country's climate risk, the new treaty might result in a false signal to Tuvaluan people that their country is imminently unsafe to live in. The challenges that await future Tuvaluan migrants in Australia, such as the current housing affordability crisis, have not been addressed. What measures will the Australian government take to ensure that Tuvaluan migrants do not end up facing more hardship in Australia than they might have at home, such as homelessness?
In recent years, activists from Tuvalu and their low-lying neighbours in the Pacific have been calling for their sovereignty to be protected, not eroded, in a changing climate. Our gravest concerns about the treaty are that it sidesteps the important question of Australia's commitment to phasing out fossil fuels and contains considerable rhetoric around respecting sovereignty, but quite clearly erodes Tuvalu's sovereignty on issues of national security. From now on, Tuvalu must 'mutually agree with Australia any partnership, arrangement or engagement with any other State or entity on security and defence-related matters.'
Fale pili means looking after your neighbour as if they are family. The fale pili that we know—that we have experienced as a Tuvaluan family in Australia and Tuvalu, and that we have written about as academics—does not come with strings attached. If Australia really understood fale pili, Tuvaluans would have been offered a migration opportunity with no expectation that Australia would gain geopolitically. This purported solution for Tuvaluans, presented to the casual observer to be some form of climate justice, we see as an insidious form of colonialism. This is not the model of climate mobility that Tuvaluans, or others in climate-vulnerable places, deserve.
Related articles in the COP28 series:
COP, peace and the Pacific Islands (3-minute read)
PCC at COP28: Advocating for phasing out fossil fuels, funding for loss and damage, and peace (3-minute read)
A loss and damage fund in the Pacific? (3-minute read)
Between a rock and a hard place (3-minute read)
COP and the unaccounted loss and damage for Pacific Youth (3-minute read)
A new Pacific Diplomacy for COP28 (3-minute read)
Building Peace Amidst Climate Challenges: Insights from Conciliation Resources (3-minute read)
Taukiei Kitara is from Tuvalu, and lives in Queensland, Australia. He is an Adjunct Research Fellow at the Griffith Centre for Social and Cultural Research, Griffith University, Australia
Carol Farbotko is an Australian Research Council Future Fellow at the Griffith Centre for Social and Cultural Research, Griffith University, Australia.