Cooperative Security, Arms Control and Disarmament By Amin Saikal | 19 April, 2023
Russia And China Are Edging Out The US In The Middle East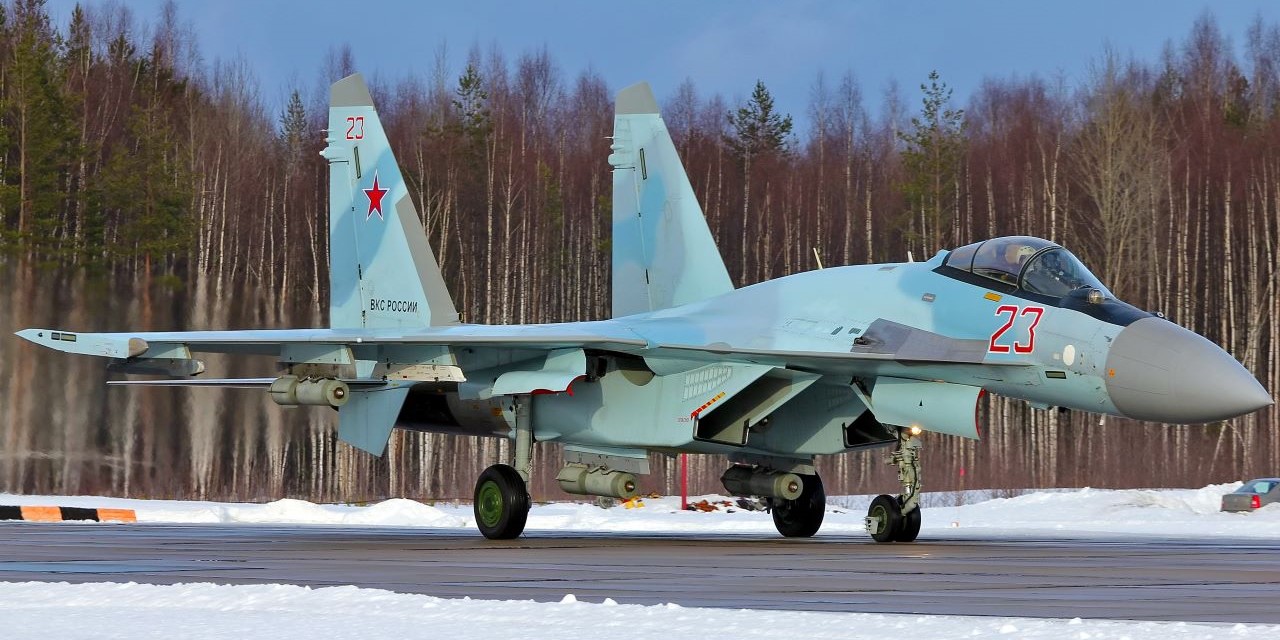 Image: Russian jet fighter Sukhoi Su-35 — JetKat/Shutterstock
This article was first published in The Strategist on 12 April 2023.
The strategic landscape of the Middle East is changing rapidly, but not in favour of the United States as the traditional powerful actor in the region. Continued adversarial US–Iranian relations and regional Arab states' growing concerns about Washington's reliability as an ally have widened the arena for Russia and China to expand their strategic footprints in the region.
Several developments have come together to shake up America's position. Most importantly, they include a dramatic elevation in the Russo-Iranian and Sino-Iranian strategic partnerships. Bilateral trade and military cooperation between Iran and Russia has never been greater. The volume of their bilateral trade jumped from US$4 billion in 2021 to US$40 billion the following year. This comes on the back of a 20-year cooperation agreement that the two sides signed in March 2021.
Meanwhile, and more significantly, the Russo-Iranian military partnership has reached a new height. Although Russia has been Iran's main arms supplier for many years, 2022 marked a turning point, with Iran ordering 24 Sukhoi Su-35 Flanker-E fighter jets, reportedly at a cost of US$10 billion over 20 years. These jets are the most advanced in Russia's arsenal and have been extensively used in the bombing of Ukraine. This appears to be part of a deal whereby Iran has delivered hundreds of drones to Russia, which have been used to deadly effect in Ukraine. The parties have also engaged in training each other's personnel for the fighters and drones, with Iran reportedly establishing a joint venture for production of the drones in occupied Crimea.
Simultaneously, Sino-Iranian trade and strategic relations have increased enormously. Following a period of steady growth in bilateral economic and trade ties and relatively modest military and intelligence relations, the two sides signed a 25-year cooperation agreement in 2021, elevating their technical, economic and strategic ties to an unprecedented level. The agreement has opened the way for expansion of Chinese participation and investment in Iranian industrial and infrastructure development. It has also widened the Iranian market for Chinese goods and resulted in even greater intelligence and military ties.
In the process, China has ignored the US-led sanctions on Iran. It has continued to import Iranian oil and has leveraged its growing diplomatic influence by brokering the recent peace agreement between Iran and Saudi Arabia, restoring ties after a six-year split.
China has also expanded its relations with an increasingly receptive Saudi Arabia, especially in the light of the controversial de facto ruler Mohammad bin Salman's disenchantment with the US over President Joe Biden's past criticism of him for alleged human rights violations and military operations in Yemen.
Iran is about to join the China–Russia-led Shanghai Cooperation Organisation, and has also become a vital link in the westward stream of China's Belt and Road Initiative. Interestingly, Saudi Arabia—a traditional ally of the US—has also decided to join the SCO as a dialogue partner. This can only boost Beijing's regional influence.
Concurrently, the US relationship with its supposedly most reliable ally, Israel, is in strife. Polarisation of the Israeli electorate and growing political instability in the country—resulting mainly from Prime Minister Benjamin Netanyahu's formation of the most right-wing government the country has ever seen and his efforts to overturn the power of the judiciary—have left the Biden administration with no choice but to become apprehensive towards the Israeli leader.
Washington has joined a chorus of democracies in viewing Netanyahu's actions as threatening 'Israel's democracy'. Netanyahu, who faces trial on charges of fraud, has responded by claiming that Israel is a sovereign state and makes its own decisions. While resenting Russian and Chinese growing ties with Iran and, to a worrying level, with Saudi Arabia, Israel hasn't refrained from expediently cosying up to Russia and China and reserving the right to strike Iranian nuclear facilities any time as an 'existential threat' to the Jewish state.
The US is certainly losing space to Russia and China in the Middle East. The region is in the throes of strategic transition, although it is hard to predict which direction it will take: more peaceful or more confrontational? Regardless, the oil-rich Middle East is most likely to remain a diplomatic headache for the US for the foreseeable future in spite of its preoccupation with Russia's Ukraine aggression and China's South China Sea and Taiwan ambitions.
Related articles:
China is Reinventing Itself as a Peace Broker — How Will America Respond? (3-minute read)
The Limits of Beijing's Middle East Diplomacy (3-minute read)
Amin Saikal is adjunct professor of social sciences at the University of Western Australia, and is the author of Iran Rising: The Survival and Future of the Islamic Republic and editor of Iran and the Arab world: a turbulent region in transition.