Climate Change and Conflict By Kirstie Petrou and John Connell | 05 April, 2023
Labour Mobility and Climate Change in the Pacific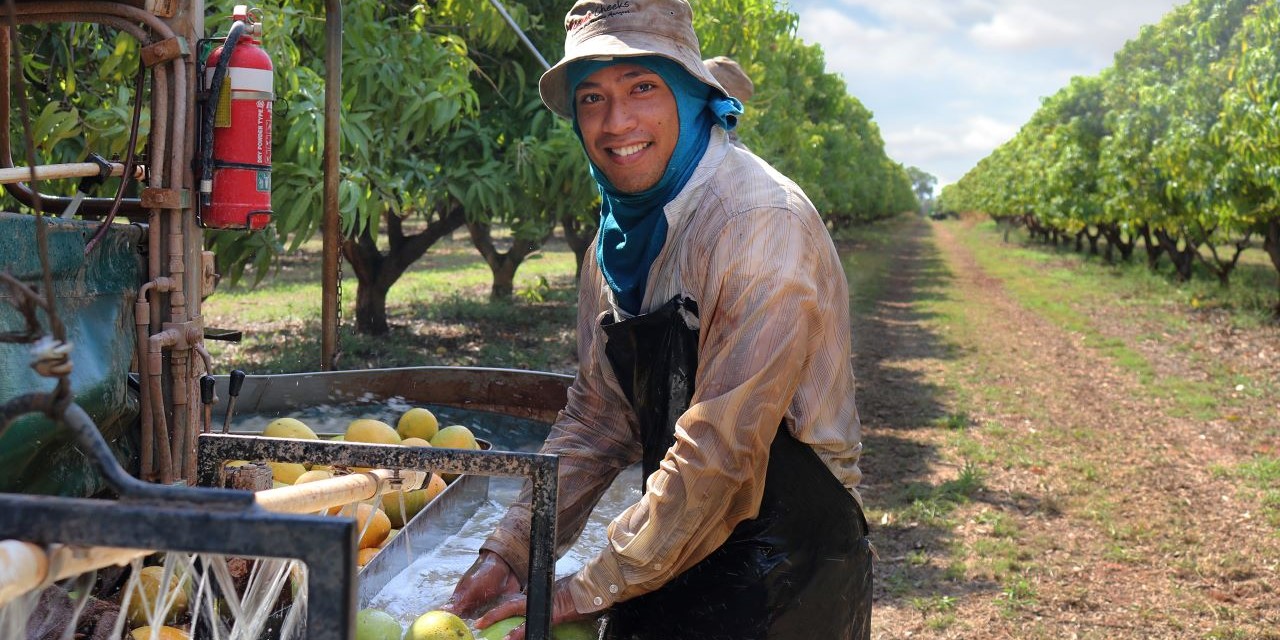 Image: Pacific Labour Mobility Program, Department of Foreign Affairs and Trade/Flickr
Labour migration has a long history in the Pacific islands' region, from the 'blackbirding' era at the end of the nineteenth century when islanders came to work in the cane fields of Queensland, until this century when once again islanders came to work in Australia and New Zealand, this time in orchards and horticulture.
For more than a decade, the Recognised Seasonal Employer (RSE) Scheme and the Seasonal Worker Programme (SWP) (recently renamed the Pacific Australia Labour Mobility (PALM) Scheme) have provided opportunities for Pacific Islanders to work on short-term contracts in New Zealand and Australia respectively. While the schemes began slowly, over time participation rates have expanded rapidly; tens of thousands of Pacific Islanders have now worked for up to nine months in a year through the seasonal worker schemes. Participating Pacific Island Countries (PICs) include those at high risk of natural disasters such as Vanuatu and Tonga, and the low-lying atoll states of Kiribati and Tuvalu. In this blog we consider the links between the Pacific labour mobility schemes, climate resilience and climate risk.
A key motivation for participation in the PALM and RSE Schemes is the promise of wages that are much higher than those available via domestic employment and agricultural production in the PICs. These wages return to the Pacific as savings and remittance flows in cash and kind. There is some evidence that labour mobility earnings are being used to facilitate climate resilience. For example, in Solomon Islands, workers have invested in more durable housing as well as community infrastructure such as wells. Similarly, in Emau island, Vanuatu, returned workers relocated housing away from areas susceptible to coastal erosion. Earnings from labour mobility have also been used to rebuild and recover in the aftermath of natural disasters. After Cyclone Pam hit Vanuatu in 2015, workers used their earnings to help recover from the damage, while some employers sent shipping containers of goods and building supplies to help communities in Vanuatu to rebuild. In the aftermath of twin Tropical Cyclones Judy and Kevin in 2023, Vanuatu's seasonal workers have again been called upon to help with the recovery effort. As climate change increases the frequency and severity of such disasters, labour mobility incomes may play an important role in facilitating relocation away from areas of high risk and aid in the recovery process.
At the same time, labour mobility participation has been associated with decreased climate resilience. In Epi, Vanuatu, where participation in guestwork has been particularly high, the absence of young working age men decreased local labour supply. Increased cashflow and a desire to spel (rest) between contracts meant many workers began relying on imported foods rather than planting subsistence gardens . Similarly, changes to housing construction and location facilitated by labour mobility meant that more houses were being built on land once used for subsistence gardening. Already vulnerable communities were left increasingly vulnerable to food insecurity and other impacts of climate change, with social costs and increased workloads often borne by women as their partners worked overseas. New cash flows have also enabled the purchase of tools like chainsaws that may well speed deforestation. The relationship between labour mobility and climate change is far from clear cut.
Significantly, the impacts of climate change are not restricted to the PICs. Increasingly, guestworkers have been caught up in natural disasters while employed in Australia and New Zealand; Pacific guestworkers were hailed as heroes when they helped fight fires during Australia's Black Summer of 2020, and when they assisted in rebuilding communities after severe flooding in New South Wales and Queensland in 2022. Similar stories and scenes emerged after Cyclone Gabrielle hit New Zealand in early 2023. Ironically, Pacific guestworkers are not only facing the impacts of climate change at home, but are helping us out – and even saving lives – as Australia and New Zealand grapple with their own climate emergencies.
There have been calls to recognise migration as climate adaptation within the schemes and to consider how guestworker programs can contribute to climate justice. Australia briefly incorporated climate considerations into the Northern Australia Worker Pilot Programme (NAWPP) that preceded the recent broadening of Australia's labour mobility schemes into a medium term, non-seasonal employment streams. The NAWPP, also known as the Microstates Visa, prioritised access for the at-risk atoll states of Kiribati and Tuvalu, whose economies lacked diversity. However, this focus swiftly disappeared once the new scheme was formalised. The Pacific is incredibly diverse, culturally and geographically and not all countries experience the impacts of climate change in the same way. Unfortunately, since employment opportunities are effectively determined by Australian labour force needs, it has not proved possible to modify these schemes to provide immediate employment relief when islands are hit by hazards. As the impacts of climate change become increasingly impossible to ignore, there are real questions about Australia's regional role as a key contributor to climate change and how it might enact climate justice through guestworker migration. New Zealand experiences the same challenges.
While the Pacific guestworker schemes may have begun slowly, participation numbers have increased significantly over time. In March 2023, 35,000 workers were employed in Australia through the PALM scheme. Family accompaniment for some PALM workers is scheduled to be introduced later in the year, while Australia has committed to introducing a Pacific Engagement Visa to increase migration pathways for Pacific Islanders wishing to move to Australia. It is likely that migration away from the PICs will continue to increase and will tend towards longer term, more permanent moves. How that will impact on climate change and development remains to be seen.
These issues are discussed more fully in our book: Kirstie Petrou and John Connell, Pacific Islands Guestworkers in Australia. The New Blackbirds?, Singapore, Palgrave Macmillan, 2022.
Related articles:
Labour Migration and Climate Justice (3-minute read)
Kirstie Petrou is a human geographer and research fellow at the Policy Innovation Hub, Griffith University. Her research interests include migration, urbanisation and development in the Pacific.
John Connell is a Professor of Geography in the School of Geosciences, University of Sydney. He works mainly on small island development issues in the Pacific region and has published several books on migration and colonialism.