Climate Change and Conflict By Volker Boege | 02 August, 2021
Climate Change, Identity and Sovereignty in the Pacific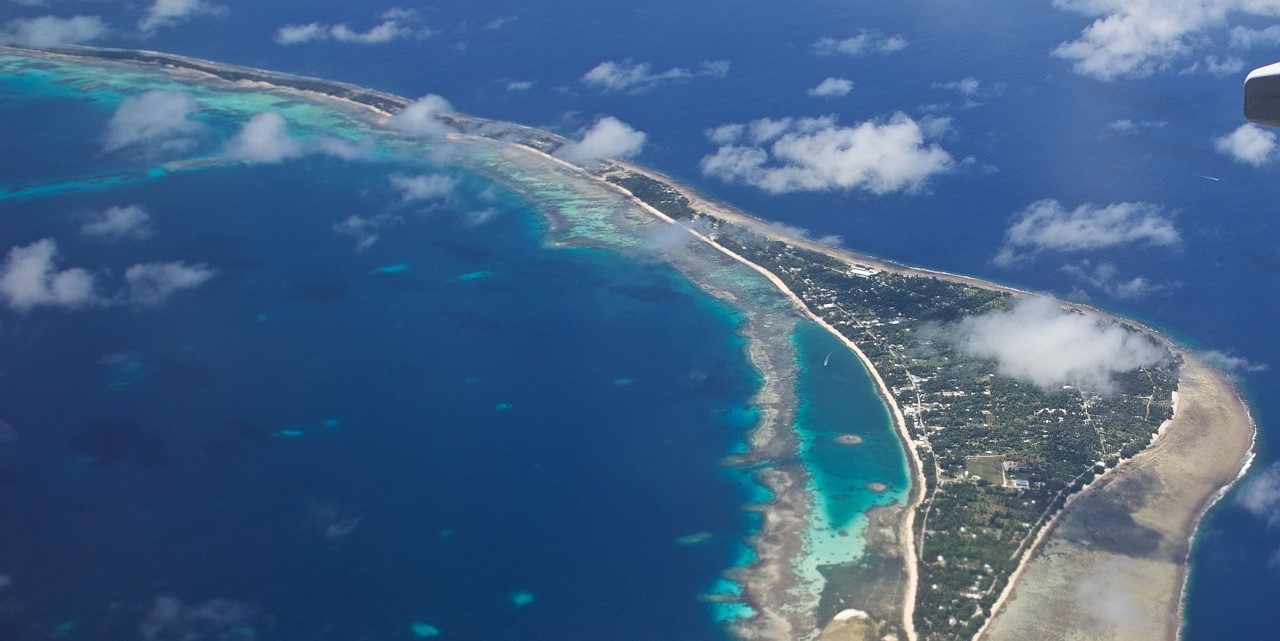 Photo credit: Laura Island, Majuro, Marshall Islands - Coast Guard News/Flickr
A recent online conference on "Climate Change and Pacific Sovereignty" discussed the issues of identity and sovereignty with a focus on Pacific atoll nations. Politicians, academics and civil society representatives from the atoll nations of Tuvalu, Kiribati and the Marshall Islands presented their experiences, views and political approaches. They were joined by legal and policy experts from Fiji and Australia.
What became clear was that from a Pacific perspective the issues of cultural identity and political-legal sovereignty are inextricably linked. The lives of Pacific people revolve around their connection to land, to their place of birth. Land is not just a geographical place or an economic asset that can be bought and sold; it is imbued with cultural and spiritual meaning. There is no individual land ownership, rather, communities are the custodians of the land. People and land are one; in many Pacific languages the words for land and people are the same.
Presenters from Tuvalu, the Marshall Islands and Kiribati noted that this spiritual-cultural significance of land is not adequately understood in the realm of international climate change discourse and negotiations. Kathy Jetnil-Kijner, poet and climate change activist from the Marshall Islands, stressed the importance of cultural rights for Pacific Islanders and complained that cultural rights are not really given the weight they deserve at the international level in the context of human rights. Maina Talia, the director of the Tuvalu Association of NGOs, contrasted the predominant Western conceptualisation of human rights as individual rights with a Pacific focus on communal rights; communalism is at the heart of Pacific cultural identity. Climate change threatens to destroy the people-land connection and, consequently, land-based communalism and cultural identity.
This worldview has fundamental practical implications, for example, for the concept of loss and damage: cultural loss and damage is of utmost importance. And there are implications for climate-change induced mobility in the form of migration, relocation and displacement. On the one hand it became clear that a shallow quick-fix attitude which presents migration and relocation as a convenient climate change adaptation measure—or as an adaptation measure of 'last resort'—is no solution in a Pacific societal-cultural context. People insist on the right to stay on their home islands, also for their children and their children's children.
This message was strongly reiterated by presenters from the atoll nations, and echoed by Yessie Mosby, an indigenous climate change activist from Massig Island in the Torres Straits in Australia. For him, Massig is home, life, mother; he and his people do not want to become climate refugees.
On the other hand, presenters also discussed the need for a 'Plan B' for a situation when low lying atolls become uninhabitable or even submerged by the ocean and people have no other choice but to move. Such movement would not just be a technical, social, political challenge, but would have fundamental cultural and spiritual implications. In this context, Taukiei Kitara (from Tuvalu, now resident in Brisbane, Australia) made the point that Pacific Island people do not only have deep connections to land, but also a long history of mobility, of migration and voyages across the vast expenses of the ocean. How these traditions can be utilised under the new conditions of climate change will have to be explored.
This point was taken up by Reverend James Bhagwan, General-Secretary of the Pacific Conference of Churches, who suggested changing the discourse from 'exile' to 'exodus', to building new homes in a new host-land, referencing the migrant stories in the Bible. He pointed to the role of Pacific diaspora communities, for example in New Zealand, Australia or other Pacific rim countries, in taking over responsibilities for a future when the people from their places of origin have to relocate. Maina Talia gave the example of Tuvaluans in New Zealand who are able to reconstruct crucial elements of 'home' away from home. He added, though, that Tuvaluans in New Zealand today still have the 'real' Tuvalu as 'point of reference'. The situation would change fundamentally if that were no longer the case.
The prospect of atoll countries becoming uninhabitable and submerged also poses serious political and legal questions. Can they continue to exist as sovereign nations even when they lose their territory? What happens to maritime boundaries and Exclusive Economic Zones (EEZ) in the face of sea-level rise? How can the rights of people displaced across national borders due to climate change be secured?
These questions were addressed by political leaders and legal experts from the atoll nations, Fiji, and Australia. Simon Kofe, Tuvalu's Foreign Afffairs Minister, presented two approaches: to either reinterpret existing international rules and regulations and state practices, or to change the international law framework. He made it very clear that Tuvalu insists that the international community will have to recognise the sovereign statehood and the maritime boundaries of Tuvalu even if its territory should be lost. Peter Emberson from UNESCAP's Climate Change Mobility Programme, stressed the need to establish safe migration pathways and to protect the rights of people who are forced to move across boundaries, in particular at the regional level. This poses a challenge to regional Pacific solidarity which has to go beyond verbal declarations to practical measures. This point was vividly illustrated by Tammy Tabe, lecturer at the USP in Suva, who told the story of her community which decades ago was forced to relocate regionally from the Gilbert Islands (today's Kiribati) to the Solomon Islands. Susan Harris-Rimmer, from Griffith University Law School in Brisbane, discussed emerging options for securing the rights of people and the sovereignty of countries threatened by climate change. She mentioned current developments with regard to the rights of nature, inter-generational rights, and the debate about 'ecocide'. She reiterated that in light of the climate emergency, cultural rights have to be developed further, and she stated that today's international law, designed in the pre-climate change era, is not up to the challenges of climate change.
The directions in which international law and climate change policies should be developed were discussed. Ian Fry from the Centre for Climate Policy and Law at ANU stressed the need to establish a special international fund – a 'Climate Change Solidarity Fund' – because current international funding is inadequate to address the challenges confronting atoll nations, and the need to create an international legal regime for the protection of climate change displaced people, which not least will have to guarantee the right of people to maintain their nationality and their cultural identity.
The conference provided an excellent opportunity for exchange not only between policymakers, academics and activists, but, perhaps even more importantly, between participants from atoll nations and their brothers and sisters in the diaspora.
The conference on 22 and 23 July was the third in a series of events organised by the Pacific Islands Council of Queensland (PICQ), Friends of the Earth (FoE) Australia and its Brisbane Climate Frontlines network. A video of conference proceedings will be made available on the PICQ and FoE websites.
Volker Boege is Toda Peace Institute's Senior Research Fellow for Climate Change and Conflict. Dr. Boege has worked extensively in the areas of peacebuilding and resilience in the Pacific region. He works on post-conflict peacebuilding, hybrid political orders and state formation, non-Western approaches to conflict transformation, environmental degradation and conflict, with a regional focus on Oceania.