Peace and Security in Northeast Asia By Herbert Wulf | 26 May, 2021
Balancing Act in Asia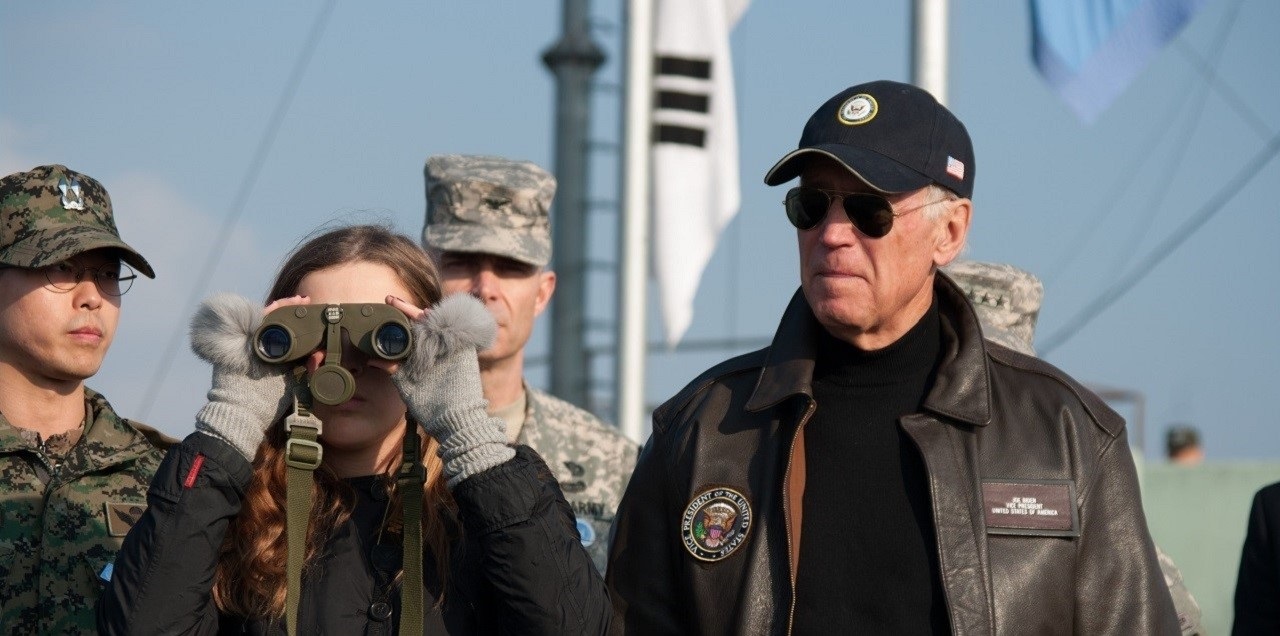 Image: UNC-CFC-USFK/Flickr
(Then Vice-President Biden at Observation Point Ouellette, December 2013)
North Korea's nuclear programme isn't the only U.S. foreign policy "construction site" in Asia.
Even before the new US administration has sorted its political priorities—a necessity after four erratic Trump years—it is already forced to show the flag on foreign policy. Recently, the war between Israel and Hamas, at the same time the withdrawal of troops from Afghanistan, the complicated relationship with Russia, the dysfunctional relations within NATO, the sensitivities of the German government resulting from disagreements over the North Stream 2 gas pipeline, and so on. However, relations with Asia countries seem to be particularly important. The only leaders to meet face-to-face with President Biden in Washington so far have been Japanese Prime Minister Yoshihide Sugo in April and South Korea's President Moon Jae-in on May 21.
President Moon is urging President Biden to start negotiations with North Korea. Moon has only one year left until the end of his term to realise his central concern to normalise relations with North Korea. But the integration of North Korea into the international community is conditional to transforming the still existing 1953 ceasefire agreement into a durable peace treaty and achieving the denuclearisation of North Korea. Eliminating North Korea's nuclear weapons is also a priority for the Biden administration. However, it is not yet clear how these objectives, and possibly even mutual diplomatic recognition, can be achieved.
The different concepts used in the past have not prevented North Korea's rise as a nuclear power. During the 1990s, the Clinton administration had made much progress in negotiating, but ultimately failed because of the irreconcilable interests between the US and North Korea. At that time, North Korea did not yet have nuclear warheads.
In the 2000s, the Bush administration tried carrots and sticks, offers of negotiations and punishments by sanctions. But this attempt, too, failed because North Korea's position continued to harden due to the slow process of negotiations and tougher sanctions. In 2008, at the end of the Bush administration, North Korea probably had nuclear material for four to six warheads.
The Obama administration tried "strategic stability," that is, no change to the existing conditions, and pressure on North Korea to at least curb the progress of its missile and nuclear programme. At the end of Obama's administration, North Korea possessed up to 25 warheads.
Eventually, Donald Trump tried high-profile photo summits and his famous "deals". This attempt, too, failed miserably, even though Trump and Kim agreed to denuclearise the Korean Peninsula (i.e., North and South Korea). However, the communiqué of the meeting was too nebulous to make real progress. According to experts, North Korea has doubled its nuclear arsenal to as many as 45 nuclear warheads in the past four years.
During President Moon's current visit, President Biden announced that he would avoid the mistakes of the past. But neither the joint final declaration of the meeting nor the US–North Korea policy guideline published last month provide a clear indication of what it should look like in the future. Very generally, it is said that they want to bring "back diplomatic dialogue". Apparently, President Biden is giving his South Korean counterpart a free hand to come to a "very calibrated, practical, gradual, step by step manner," in close coordination with the US. It remains to be seen how Kim Jong-un's government in Pyongyang will respond. Washington is under no illusions. Kim's influential sister Kim Yo-jong dismissed as unserious the first delicate advances of the US, with harsh and martial reactions. "Power for power, and goodwill for goodwill," North Korea told the US in a mixture of warning and responsiveness. "If there was a commitment on which we met, then I would meet with [Kim]," said Biden.
But what is a commitment? Is it time to set preconditions again? A day after the meeting in Washington, the official North Korean News Agency (KNCA) published reports of a new kimchi factory, the opening of an agitprop centre and the construction of apartments in Pyongyang. But so far, no response at all to the Biden–Moon summit. Because of the Covid-19 pandemic, North Korea has become even more isolated as a result of sanctions.
While North Korea's nuclear programme is "a matter of survival," for South Korea's President Moon, Washington pursues a number of other foreign and economic interests in Asia. The most important focus in Washington seems to be the mobilisation of allies in the fierce competition with China. Recently, the USA, Japan, Australia and India reactivated the so-called "Quad" security dialogue, which has been in place since 2007 and has since been somewhat neglected. While there is agreement among the "Quad" partner countries on concerns about China's aggressive foreign and security policy, this fear is not fully shared in South Korea. China is South Korea's main trading partner, and the South Korean government rightly believes that resolving North Korea's nuclear programme cannot be achieved without China's active support.
With regard to China, South Korea's present government is committed to three no-goes: No participation in the "Quad" initiative. Thus, the quartet will not become a quintet. Yes to the US-South Korean military alliance, but no to a military alliance involving Japan. The relationship between South Korea and Japan has been strained considerably since Japan colonised it. Despite some attempts at rapprochement, Japanese-Korean relations deteriorated. Finally, no further expansion of the American Terminal High Altitude Area Defense (THAAD) missile defence system, which was accepted by South Korea's previous administration but is considered a provocation by Beijing.
Will the US take a cautious diplomatic initiative involving China and South Korea with Kim Jong-un, despite the existing US-China tensions? And will the American government ignore the expected provocations from Pyongyang in order to continue long-term negotiations? Will the position of "all or nothing" on the elimination of North Korea's nuclear weapons continue to be defended, or is North Korea even informally recognised as a de-facto nuclear power? How do we deal with a regime that disregards almost all diplomatic practices and does not shy away from the violation of international law? Washington's foreign policy strategy is still far from clear and straightforward. President Biden isn't pursuing the simple "for or against me" as openly as did Trump. But the foreign policy maxim is obviously how the allies feel about China. US foreign policy in Asia is a balancing act, because some goals can only be achieved in cooperation and not in confrontation with China. And for South Korea, too, it is a rope dance, the outcome of which is open, given the vague foreign policy strategy in Washington.
Herbert Wulf is a Professor of International Relations and former Director of the Bonn International Center for Conversion (BICC). He is presently a Senior Fellow at BICC, an Adjunct Senior Researcher at the Institute for Development and Peace, University of Duisburg/Essen, Germany, and a Research Affiliate at the National Centre for Peace and Conflict Studies, University of Otago, New Zealand. He serves on the Scientific Councils of SIPRI and the Centre for Conflict Studies of the University of Marburg, Germany.