Warrior and Pacifist Traditions in the Three Abrahamic Religions and Buddhism
February 05 - 08, 2016
Tokyo, Japan
"Warrior and Pacifist Traditions in the Three Abrahamic Religions and Buddhism"
The Toda Institute for Global Peace and Policy Research celebrated its 20th anniversary in Tokyo, Japan, February 5-8, 2016, by co-organizing—with the National Centre for Peace and Conflict Studies at the University of Otago—a conference entitled: "Warrior and Pacifist Traditions in the Three Abrahamic Religions and Buddhism." The three day meeting drew on the rich wisdom and experiences of the 20 participants, who came from 14 different countries and who spanned the various faith traditions of Christianity, Islam, Judaism and Buddhism.
Conference Proceedings
In aiming to avoid simplistic dualisms and the popular assumption that religion is a, if not the, primary source of violent conflict, conversations were framed in order to gain a broader understanding of the theological/scriptural bases of both the warrior and pacifist perspectives of all the Abrahamic religions and Buddhism and how these have affected religious perceptions of violence and nonviolence in all four faith traditions. The normative purpose was to think of ways in which scholars, practitioners, and religious actors might work to diminish the warrior tendencies in all religions and enhance the pacifist ones. The organizers and participants were particularly interested in the way in which religious/spiritual dynamics in positively engaged Buddhism, Islam, Judaism, and Christianity have played out in different individual and group actions for justice and peace.
On the first day of the conference a public plenary was held, with a keynote address given by Mrs. Sihem Benzedrine who, as a highly respected journalist in Tunisia, advocated for Human Rights and freedom of the press during times of oppression. She is the winner of several international awards for her work. Currently, she holds the position of president of the Truth and Dignity Commission of Tunisia. Mrs. Bensedrine spoke about the key issues facing Muslim's today and how their popular portrayal in mass media, and political discourse has little to do with the fundamental religious traditions of Islam. She noted the importance of combatting stereotypes and creating conditions within which political extremism could be addressed creatively and nonviolently. In a post-revolutionary period she highlighted the need for transitional justice to ensure that current negative trends are negated and communities are able to grow and flourish by embracing positive options for change and transformation. She ended her speech with the following statement: "Religions are divine by nature, but they are implemented by human beings who instill them with their passions, their fears, their hatred or with their generosity and their love. They can make of them the source of their cohesion or choose division. If religions have no political responsibility for violence committed in their name, they have at least a moral responsibility to ensure that peace should be made in their name."
This opening address was then followed by a panel discussion where eight participants from all four faiths explored the just war/just peace traditions of their different religions. This created an excellent framework for two and half days explorations of the ways in which different religious and political actors have used religious texts and behavior for violent or nonviolent purposes.
Dr. Kevin Clements, who facilitated the closed meeting sessions elaborated the following outcomes of the two and a half day of sessions: "After exploring the ambivalent views of all the major religious traditions on war and peace issues we refocused the discussions on to the ways in which religious traditions deal with social change and the big dynamic forces that are driving both positive and negative globalization in the 21st century. This refocused discussions on the different ways in which the Abrahamic religious traditions and Buddhism viewed issues such as inequality, refugees, displacement, homelessness, violence and war, and climate change. The conversations generated a deep acknowledgement of the necessity for all religious traditions to practice humility in relation to their own internal divisions and in relation to the claims each made about their own beliefs and faiths and how these might make a difference to an often broken world. It was accepted that before religions could heal the pain and brokenness of others they must first, or simultaneously address the divisions that existed within their own communities so that they had something important to contribute to the healing of the world."
A publication based on the conference is expected in late 2016.
Participant Pictures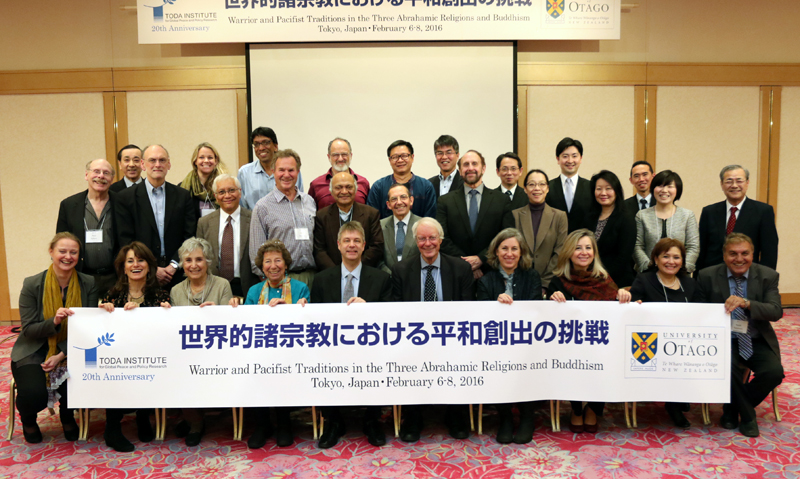 Past REAP Workshops
"Islam and Nonviolence" held in Tokyo, Japan, May 25-26, 2015.