Islam and Nonviolence held
May 25 - 26, 2015
Tokyo, Japan
"Islam and Nonviolence," conference held in Tokyo, Japan, on May, 25-26, 2015.
The Toda Institute for Global Peace and Policy Research and The National Centre for Peace and Conflict Studies University of Otago, concerned at the lack of a nuanced response to recent incidents of political violence in the Middle East and elsewhere co-hosted a "Brainstorming" workshop on Islam and Nonviolence in Tokyo, Japan, on May 25-26, 2015.
Conference Proceedings
The focus of this workshop was to discern the diverse ways in which Islam and Muslims could utilize their rich religious tradition to promote pacific and nonviolent alternatives to violence.
The workshop started by focusing on Muslim visions for a peaceful world and what prevented the realization of these hopes in different parts of the Middle East. We looked for Koranic justifications for pacifism and nonviolence; Muslim religious and political leaders who advocated nonviolence and we explored the utility of nonviolence for many of the complex problems confronting Islam and the Middle East at the present time.
The conversations on these issues were very rich and we were able to map out many of the diverse traditions and divisions within Islam and how these might be addressed in future conversations.
There is a deep yearning for a strengthening of Ijtihad. This is an old tradition within Islam which is focused on religious reasoning and individual interpretation of the text. In the past this tradition allowed Islam and Muslim civilization to be flexible and to adjust and adapt to the changing conditions and to learn from the people of other civilizations. This reformist tendency in Islam is anathema to the Jihadist traditions but it is the one that is embraced by most Muslims wishing to embrace modernity and develop pluralist traditions within Muslim communities.
It was felt that a strengthening of this moderate tendency in Islam would enable the promotion of religious and political pluralism as well as create the right space for nonviolent traditions to materialize. There was strong agreement that there was more support within Islam for the concepts of justice, and of dignity for human beings. Justice, for example is mentioned over 300 times in the Koran. There is also strong support for the idea of hospitality and tolerance of others within Islam. What was not so clear, however, was any deep textual or social commitment to pacifism and nonviolence within Islam.
These were important learnings. It was felt by all participants that if these conversations were to continue to be generative then we needed to discern and analyze the nonviolent texts more; identify Muslim leaders at all levels who modeled and are modeling nonviolence and write up their stories; strengthen the Ijtihadist traditions so that dialogues might be convened between this tradition and the Jihadist and focus more attention on Shi'a-Sunni divides and the possibilities for nonviolent communications between both groups.
It was an important first meeting and we look forward to deepening these conversations at future such events.
Participant Pictures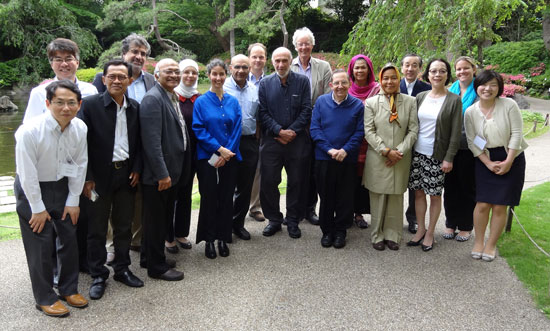 Past REAP Workshops
"Psychology and Intractability: Theory Informing Practice" held in Medford, MA, USA on February 4, 2013.