"The Challenge of Abolishing Nuclear Weapons," conference
September 08 - 09, 2007
San Francisco

Theme and Purpose
The year 2007 marks the 50th anniversary of Josei Toda's declaration for the elimination of all nuclear weapons from earth. Against this background, the Toda Institute and Nuclear Age Peace Foundation are holding a conference on "The Challenge of Abolishing Nuclear Weapons." The conference will be held in San Francisco on September 8-9, 2007, and will bring together leading experts in the field as well as a small group of youth leaders.

Read More...
Participants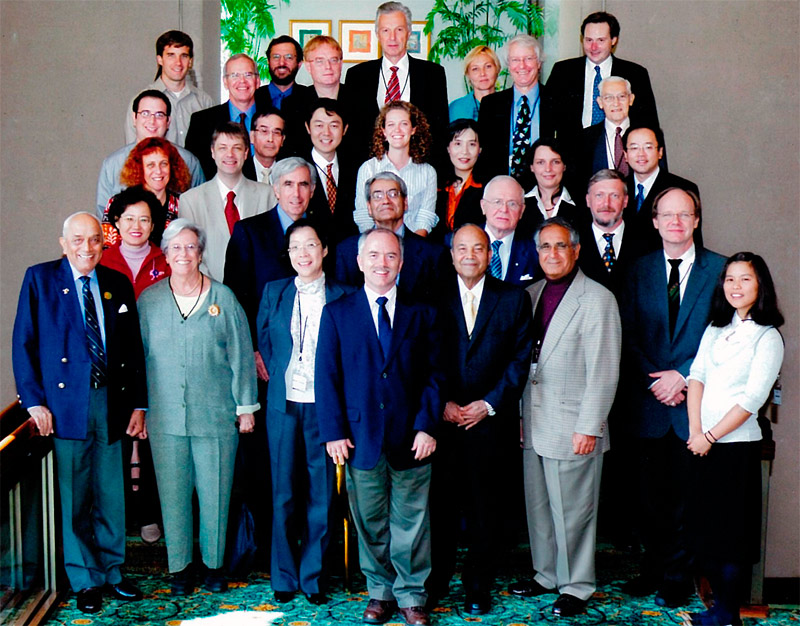 Front row from the left: Ramu Ramdas, Alice Slater, Satoko Takahashi, Wade Huntley, Ved Nanda, Keyvan Tabari, Randy Rydell and Angel Ryono
Second row from the left: Byong Sun Ahn, David Krieger, Majid Tehranian, Douglas Roche, and Alexander Nikitin
Third row from the left: Jackie Cabasso, Olivier Urbain, Tomosaburo Hirano, Tatsushi Arai, Jessica Wilbanks, Masako Toki, Julia Kramer and Tetsunori Watanabe
Fourth row from the left: Nick Roth, Jay Heffron, Jurgen Scheffran, Sverre Lodgaad, Kevin Clements
Last row from the left: Rick Wayman, Stephen Zunes, Erika Simpson and Douglas Shaw
San Francisco Conference Abstracts
Participant Abstracts are posted in both printable PDF and traditional HTML formats for your convenience.
Byong Sun Ahn html|pdf
Tatsushi Arai html |pdf
Kevin Clements html|pdf
David Krieger html|pdf
Ronald McCoy html | pdf
Ved P Nanda html |pdf
Admiral L Ramdas html|pdf
Randy Rydell html|pdf
Jürgen Scheffran html|pdf
Douglas B. Shaw html|pdf
Erika Simpson html|pdf
Rick Wayman html|pdf
Jessica Wilbanks html|pdf
Alla Yaroshinskaya html|pdf
Stephen Zunes html| pdf
Archived Conferences
Return to archived conferences here.