2nd GRAD - "Dialogue of Civilizations: Globalization, Regionalization,and Democratization," conference
June 14 - 16, 2003
Vancouver, Canada
GRAD Vancouver
"Dialogue of Civilizations: Globalization, Regionalization, and Democratization"
2nd GRAD Conference Vancouver, Canada, June 14-16, 2003.
International Research Project, 2001-2004

Sponsored by:
Toda Institute for Global Peace and Policy Research In Collaboration with: Dialogue Institute, Simon Fraser University Morris J. Wosk Centre for Dialogue

Conference Proceedings
Coming soon.
Participant Photos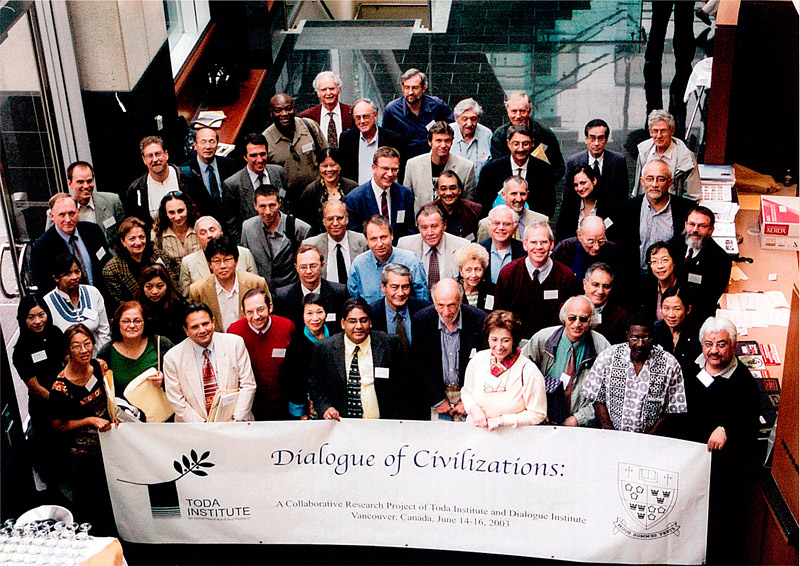 Front row, left to right: Jeannie Lum, Katherine Tehranian, Bharat Gupt, Joseph Camilleri, Audrey Kitagawa, Hussein Solomon, Richard Falk, Sara Horowitz, B.M. Jain, Adelani Ogunrinade, Kamran Mofid

Second row: Pornpan Boonshuen, Merlyna Lim, Amy Wong, Myung-Rae Cho, Rafis Abazof, Majid Tehranian, Linda Groff, Jay Heffron, Keyvan Tabari, Li Min Hee

Third row: Michael Douglass, Aghavni Karakhanian, Javier Protzel, Vladimir Korobov, Beni Prasad Agarwal, Yuri Bossin, Abdul Nurullaev, Michael Intriligator, John Montgomery, Satoko Takahashi

Forth row: Joseph Boski, Hripsime Nalbandyan, Farid Mirbagheri, Yuezhi Zhao, Stein Tonnesson, Johan Saravanamuttu, George Bisharat, Catherine Rogers, Kamol Abdullaev

Fifth row: Michael Leaf, Masao Yokota, Arthur-Martines Aginam, Dov Shinar, Barry Gills, George Irani, Tomosaburo Hirano, Christopher Leeds

Last row: Fred Riggs, Robert Hackett, Saul Mendlovitz, Stuart Rees
Archived Conferences
Return to archived conferences here.