HUGG Okinawa -"Dialogue of Civilizations: A New Peace Agenda for a New Millennium," conference
February 11 - 13, 2000
Okinawa, Japan
"Dialogue of Civilizations: A New Peace Agenda for a New Millenium,"
Okinawa, Japan, February 11-13, 2000.
In collaboration with Boston Research Center for the 21st Century, Cambridge, USA Center for Political and International Studies, Moscow Center for Peace and Development Studies, Beijing Queen's College, City University of New York, NYC
The focus of this conference is on cultural responses to institutional challenges and different cultural visions for global institutional transformation for peace.
Participant Photos
From left to right: Michael Bommes, Bernd Scherer, Richard A. Falk, Jonathan Friedman, Peter van der Veer, Shalini Randeria, James Rosenau, Arif Dirlik, Saskia Sassen, Helmuth Berking, Javier Protzel, Avtar Brah, Werner Schiffauer, Majid Tehranian, Tomosaburo Hirano, Tschangiz Pahlavan, Hans-Leong Knopp, Katherine Pratt Ewing, Peter Seel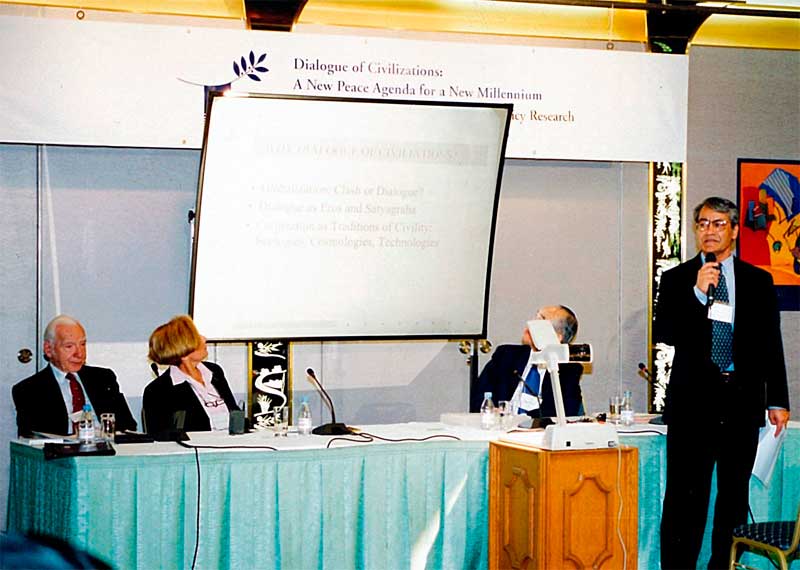 Archived Conferences
Return to archived conferences here.