The Toda Peace Institute's Theory of Change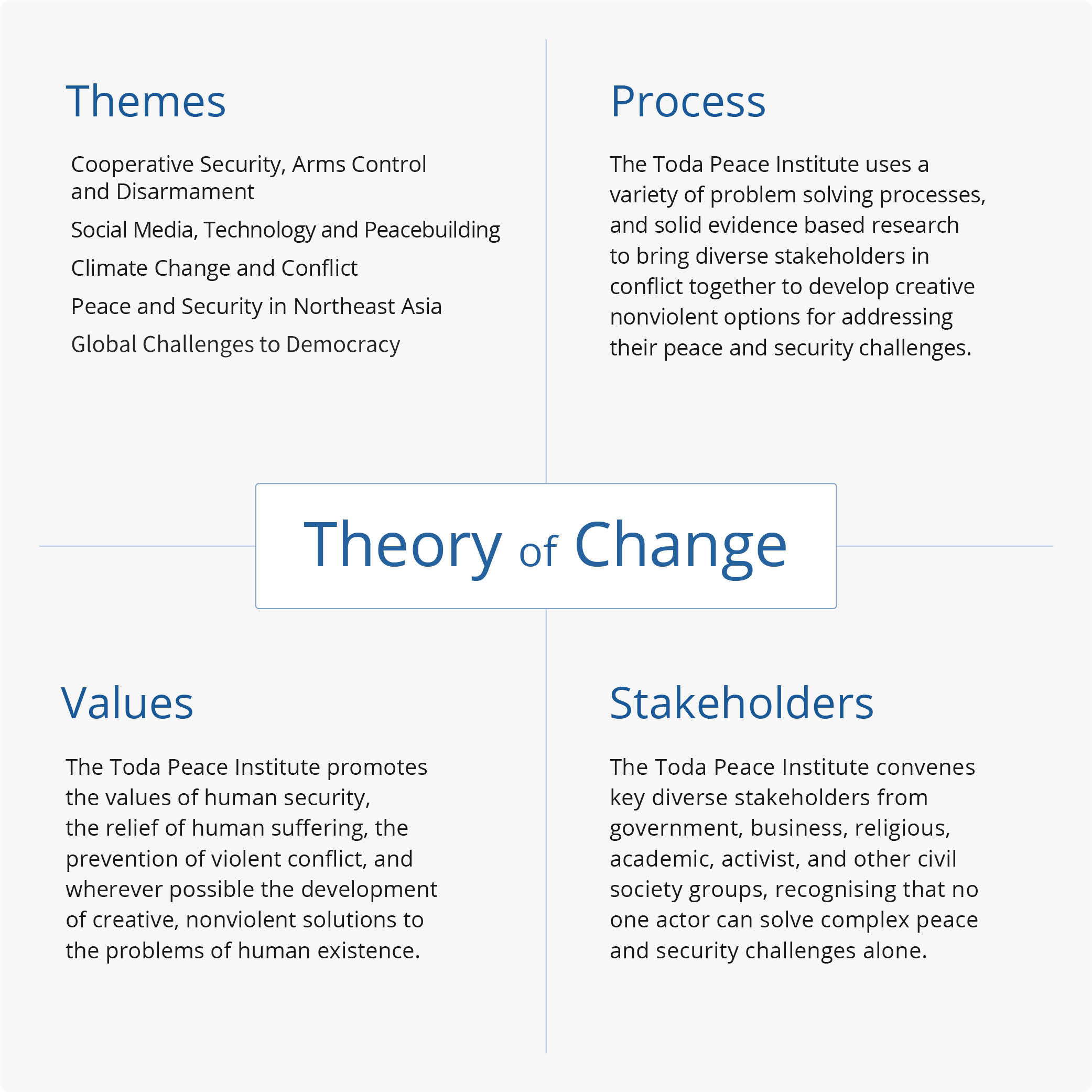 A "theory of change" (ToC) is a statement—a strategic narrative—that explains the logic of an organisation and its programmes. Every organisation has an implicit or explicit theory of change that articulates how some type of strategy or intervention will address the challenges they identify.
Theories of change have three parts. A theory of change is about how some driving or mitigating factor identified in a Peace and Conflict assessment can be changed with some intervention plan to achieve a positive impact.
WHAT: The Toda Peace Institute works on five key challenges: Arms Control and Disarmament; Climate Change and Conflict; Social Media, Technology and Peacebuilding; Peace and Security in Northeast Asia; and Global Challenges to Democracy. These five themes are interconnected.
HOW: The Toda Peace Institute works on these five issues through evidence-based research, policy briefs, dialogical workshops and conferences and collaborative analytical problem-solving workshops. These processes are all aimed at enabling parties in conflict to acknowledge their differences while building on underlying commonalities.
WHO: The Toda Peace Institute works with diverse stakeholders from governments, business, and diverse parts of civil society, including religious leaders, women, academics, media and civil society activists.
WHY: The Toda Peace Institute is motivated to do this work because of core values, including a focus on relieving human suffering, preventing violent conflict, and developing creative, nonviolent solutions to a range of human problems.
THEORY OF CHANGE: The Toda Peace Institute believes that key global security challenges require creative problem solving. By using solid evidence and facilitation processes, new solutions can be generated that address these peace and security challenges.