Contemporary Peace Research and Practice By Stein Tønnesson | 23 May, 2021
Myanmar: Don't Discount the Lady!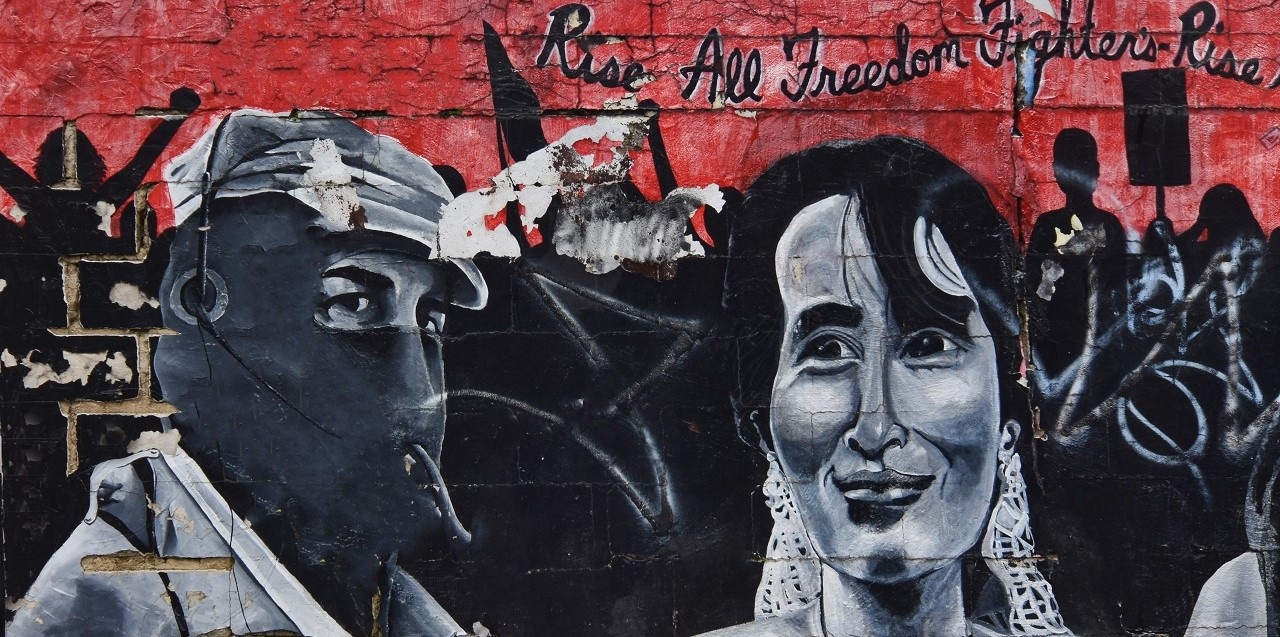 Image: Terence Faircloth/Flickr
For more than thirty years, a majority of people in Myanmar have seen Daw Aung San Suu Kyi as their legitimate leader. Her party, the National League for Democracy (NLD), won the 1990 elections for a national assembly that was never allowed to meet. On November 8 2015 and November 8 2020, the NLD again twice won by a landslide. Yet, when the elected MPs were to convene in Naypyidaw on 1 February 2021, they were instead placed under arrest. For the last five years, "Mother Suu" controlled the civilian part of Myanmar's government in her function as State Counsellor. She did a good job in spearheading the fight against Covid-19 but was never able to establish civilian control of the military forces (Tatmadaw).
Since the military seized power and announced the creation of a State Administration Council (SAC) on February 2, Myanmar has descended into an economic, social, medical and political crisis. The Tatmadaw has used heinous violence against peaceful demonstrators, whose resilient struggle against dictatorship has captivated the worldwide web. More recently, however, a growing number of activists have resorted to counter-violence. Some have linked up with ethnic minority armies, whose struggles with the Tatmadaw have escalated in several places.
A National Unity Government (NUG) was formed on 16 April by politicians who escaped arrest. It has advocated inter-ethnic unity in a genuinely democratic federation with wide-ranging local autonomy. Although it does not control any territory, NUG has engaged in a vain attempt to obtain de jure recognition from other states and has called for the creation of new "National Defense Forces" to fight against the Tatmadaw's 350,000 military troops and 85,000 police. Young activists have thus been inspired to acquire weapons and launch hazardous attacks against the Tatmadaw or government-controlled offices. Myanmar has become polarised between an illegitimate but heavily armed military junta and a poorly armed but highly legitimate revolutionary movement. If the polarisation goes further, it may prolong or even perpetuate the present crisis. Comparisons have already been made with Syria.
The measure that may have the greatest propensity for breaking this vicious cycle is the release of State Counsellor Aung San Suu Kyi, President Win Myint and other political prisoners. Rather than being prosecuted for trumped up charges, they need to get their voices back. Suu Kyi would then probably call for a return to non-violence, engage the NUG and Tatmadaw in a national dialogue and seek to restore basic public services. For the purpose of managing a peaceful return to law and order, she might establish a transitional government including reform-minded members of the Tatmadaw.
In three unanimous press statements (4 February, 10 March, 31 March), the United Nations Security Council (UNSC) has demanded the release of President Win Myint and State Counsellor Aung San Suu Kyi. The second and third statement expressed support for the efforts of the Association of Southeast Asian Nations (ASEAN) to exert leverage over Naypyidaw. On 24 April, in an unprecedented move, ASEAN held a crisis summit in Jakarta in the presence of Myanmar's commander-in-chief Min Aung Hlaing. Although the eventual consensus reached there did not include the release of Aung San Suu Kyi, this was a key point on the agenda. A primary aim for a special envoy to Myanmar appointed by ASEAN is to give the Lady back her freedom.
For several reasons, there is a tendency both in and out of Myanmar to discount the State Counsellor when looking for solutions. Many people think she has been bypassed by events. One reason is her age: On 19 June she turns 76. Another is that Min Aung Hlaing has invested his future in her demise and will never allow her release. He cannot forgive her for having tried to amend the 2008 constitution and remove his prerogatives (such as appointing 25% of all MPs and three key cabinet ministers). He also resents her for having refrained from ever convening the National Security Council, where the military is in the majority. Until 2016, it met on a weekly basis. Her worst sin, however, was to win the elections so decisively. Min Aung Hlaing's attitude, however, only implies that he must be replaced as commander-in-chief in order for a national dialogue to take place.
People have other reasons as well for discounting the Lady. Her five years in government were not an unmitigated success. She led the NLD with a firm hand, accepting no opposition and failing to provide space for younger leaders. Her refusal to delegate decision-making delayed the government's action in many domains and led to much frustration. Since the NLD controlled an absolute majority in the National Assembly, it lost its independent role. In the years 2011–15, it had done important legislative work and often criticised President Thein Sein's government. In 2016, when Suu Kyi established her government, Thein Sein's peace process with the ethnic armed organisations lost its momentum. In 2017, the Nobel Peace Prize laureate lost international respect by failing to use her moral authority to defend the human rights of the Rohingya. At home she disappointed the main ethnic minority parties by resisting reforms to strengthen local autonomy in Myanmar's fourteen states and regions. So many failures. So little achievement.
Some activists resent Daw Aung San Suu Kyi for having failed to mobilise the people in her struggle to control the Tatmadaw. The mobilisation only happened after her arrest. That, however, is also the reason why the Lady remains a good candidate for playing a mediating role. She has never been hostile to the Tatmadaw, which was founded by her father Aung San. She just wants to subject it to civilian control. When the National Unity Government was announced on 16 April, its founders wisely placed President Win Myint and State Counsellor Aung San Suu Kyi at the top, above a new prime minister. The Lady still holds the key to conflict resolution – if released.
Stein Tønnesson is research professor at the Peace Research Institute Oslo (PRIO), associate editor for Asia in the Journal of Peace Research, member of the editorial board of Global Asia and member of the Toda International Research Advisory Council. During 2018–20 he led a project on Social Media in Armed Conflict, in partnership with the Myanmar Institute for Peace and Security (MIPS).