Social Media, Technology and Peacebuilding By Lisa Schirch | 13 August, 2021
Digital Violence Prevention During the Pandemic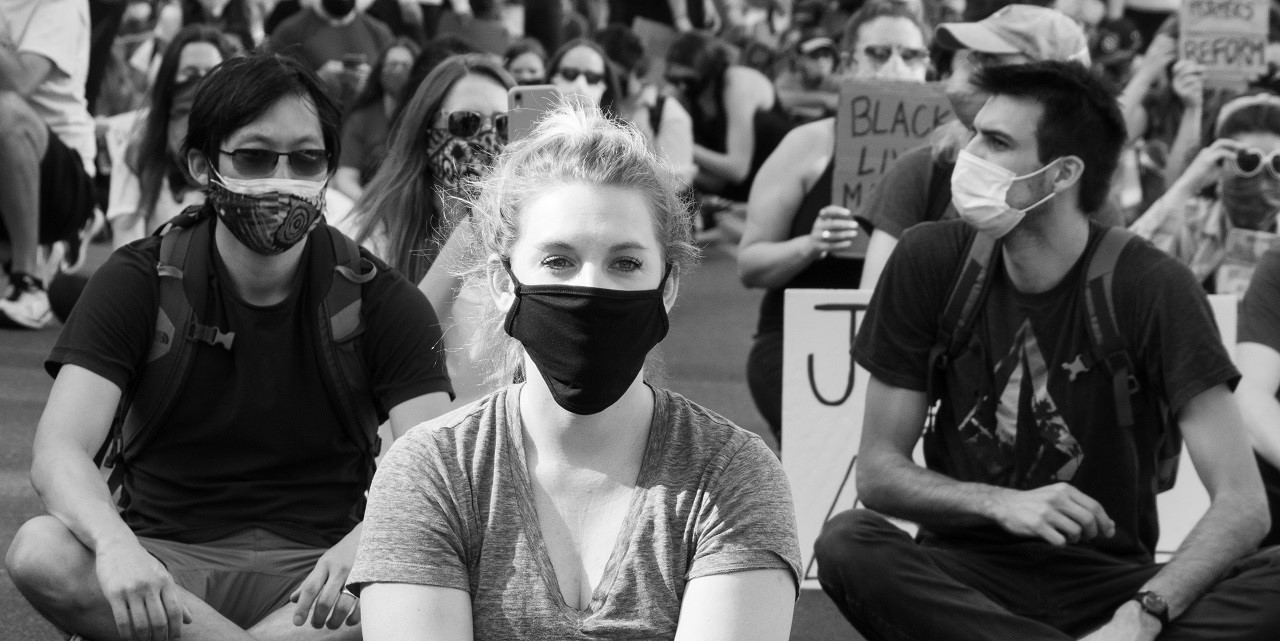 Photo credit:Flickr/Victoria Pickering
Even before the pandemic, social media was creating a "techtonic shift" in human relations by acting as a vehicle for organising violence, amplifying disinformation and xenophobic conspiracies, and polarising public discourse. Social media is the vector for spreading disinformation and incitement to violence . Lessons learned during the pandemic offer insights for digital peacebuilding and violence prevention.
Digital Harms During the Pandemic
The pandemic has created physical, mental, emotional, and financial stress for everyone, especially for at-risk individuals. Stress and trauma from sickness and death, as well as the economic consequences of the pandemic, have played out online. Many forms of violence have increased during the pandemic.
United Nations Secretary-General António Guterres warned that the Covid-19 pandemic fomented "a tsunami of hate and xenophobia, scapegoating and scaremongering," adding that "[a]nti-foreigner sentiment has surged online and in the streets..." Crises and disasters are often opportunities for those driving xenophobia and identity-based discrimination. According to Human Rights Watch, digital expressions of xenophobia toward people of Asian descent as well as refugees, migrants, or minority groups have increased during the pandemic.
In nearly every country around the world, gender-based violence has become widely known as "the pandemic within the pandemic." In Latin America, drug and criminal networks quickly adapted to Covid conditions in what the International Crisis Group calls "virus-proof violence." In the US, urban crime increased by as much as 30% in a survey of 34 cities.
In North America, parts of Africa, Asia, and Europe, digital recruiters for violent extremist groups found more lonely, desperate people online, creating a new wave of threats of terrorism. Mass digital radicalisation took off during the pandemic as homebound teenagers and workers experienced a steady diet of disinformation and extremism online.
The pandemic generated contagious waves of false information – an infodemic. Digital rumours included conspiracies about the source of the Covid virus, who would profit from Covid-19, dangerous promotion of fake cures, and anti-vaccine messages. This infodemic has led to countless deaths from people who could have received the vaccine but did not.
Digital Innovation
The pandemic accelerated technological innovation, as documented by the Covid-19 Innovation Hub. Where possible, public services have been moved online. Crowdsourced social media movement data allows governments to check on supplies of face masks, monitor contact-tracing, and generate new apps to address fake news; new digital networks enable more people to work and attend school from home.
Methods and approaches to digital violence prevention have increased during the pandemic. For example, Taiwan's Digital Ministry created an innovative way for governments to "listen at scale" with the digital polling platform Polis. Ordinary citizens could discuss Covid policy options and then vote up or down on each other's ideas, providing feedback and helping each other understand differences as well as find common ground. Digital technology has helped to avoid polarisation and instead nurture a rough consensus and "collective intelligence." In South Sudan, local community groups organised the #DefyHateNow campaign: a digital community of youth collaborating to address misinformation related to Covid-19.
In other regions, cities have begun to use social media to analyse public conflict. In Mexico City, the International Organization for Migration (IOM) developed a social media campaign to sensitise citizens about the importance of protecting human rights, and avoiding xenophobia and hate speech following attacks. The campaign targets urban locations where there are migrant shelters, safe houses, or temporary camps for people on the move. The goal is to foster greater empathy and understanding, avoid discrimination and understand migrant vulnerability. IOM found that the campaign reached hundreds of thousands of users on Facebook and Twitter and further research is being undertaken.
In Cape Town, South Africa, the Centre for Analytics and Behavioural Change (CABC) analysed digital polarisation, divisive rhetoric and narrative manipulation related to xenophobia and Covid-19. In Vancouver, Canada, Lt. Governor Janet Austin launched an anti-racism campaign on Twitter called "Different Together." The campaign aims to reduce hate by celebrating diversity during the pandemic.
In Chicago, United States, violence outreach workers developed a method of engaging with gang members online to build relationships and improve the effectiveness of violence prevention interventions. When racial justice protests began after the police killing of George Floyd, the information officers followed social media conversations in order to develop effective messaging for communicating with the public about wearing masks at the protests.
During the pandemic, cities also escalated their efforts to develop special websites and apps to provide reliable and high-quality online-accessible public services. In Istanbul, for example, the Turkish Ministry of Health partnered with EU-funded Refugee Health Training Centres to provide online psychosocial support to Syrian refugees. Digital technologies enable the provision of safe, affordable, culturally sensitive health services to over 40,000 refugees.
Some innovations during Covid-19 include digitally delivered responses to domestic and intimate partner violence. UNICEF and Microsoft piloted "Primero X" in Ghana and 29 countries in December 2020. Primero X is an open-source case management web application that helps social service providers coordinate critical support to vulnerable children who may be affected by domestic and gender-based violence linked to the Covid-19 pandemic. The app provides access to lifesaving services and protection programming, including psychosocial support, assistance to unaccompanied and separated children, family reunification and tracing, while observing physical distancing and movement restrictions.
In Lagos, Nigeria, the EU-UN-funded Spotlight Initiative uses social media videos to sensitise people to gender-based violence. Videos also combat victim blaming. The #IDeyWithHer digital awareness-raising campaign challenges harmful gender stereotypes that perpetuate violence against women.
Dozens of other cities and countries around the world are now building on these innovations and expanding violence prevention programing.
Given the pressing economic crisis, climate catastrophe, and immigration trends, the need for more innovation in digital peacebuilding is clear. Social media's power for both violence and peace make our attention to this channel for peacebuilding all the more urgent.
This article is based on a longer research publication by Lisa Schirch, Senior Research Fellow at the Toda Peace Institute, entitled "Digital Threats and Urban Violence Prevention" as part of Impact:Peace at the Kroc Institute for Peace and Justice at the University of San Diego, +Peace; Pathfinders for Peaceful, Just and Inclusive Societies, Center on International Cooperation at New York University. This Peace in Our Cities network is supported by the UK Foreign, Commonwealth and Development Office.
Lisa Schirch is Senior Research Fellow for the Toda Peace Institute and a Senior Fellow with the Alliance for Peacebuilding and Visiting Scholar at George Mason University's School for Conflict Analysis and Resolution. Schirch is the author of ten books and numerous peer-reviewed chapters and journal articles. In 2018, Dr. Schirch published an edited book on The Ecology of Violent Extremism which builds on her previous work to explore tech-assisted dialogue and coordination to improve state-society relationships and social cohesion.